This small Tool give you Rank 55 in the Multiplayer Version of CoD4. You can use the Rank 55 Profile later on to play online. My intention behind this isnt actually cheating. The Problem was my crashed Windows & reinstall with the conclusion of beginning from scratch. If you are used to play at lvl55 it is hard to start from scratch. I defenitly can`t grant any guarantee on this tool or on the consequenzes using it. So again: No cost, no warranty.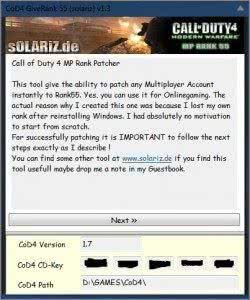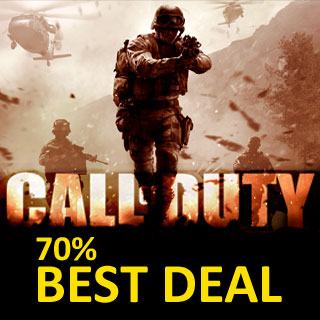 Cod4 Rank 55 Profile Patcher
This tool is old, really old. I can`t reply to any question or support inquiry!

Follow me at Twitter @solariz
COD4 Rank 55 Profile Patcher (zip, 33.17 KB)
[Scan-Result by Virustotal]

MD5: 4fb99339763f2ecbf823e7785a1d288d
SHA256: 7f68d4eb47d7cd7e42c43ea6ead573617451f5ab3c65440927376b22139f4f13