About LegendsHD
I started to create this right after my succesful Skyrim HD mod but put it on hold several month.
How does it work ? The Basics
Its no magic - well a part of it is :) Thanks to Boris the creator of the enbseries injectors. Maybe you already know them from other famous games like The Elder Scrolls, Fallout and of course GTA. Most games today use DirectX + Shaders to create their awesome graphics. With a injector you can override some of the default settings and even more: Inject own shader codes to replace old ones. By this methode its possible to enhance a game optics in many ways. Sure you are limited to teaks and shader tuning but using this way allows to modify the look without modifying any actual game files. What of course is really important in my eyes in a competitive game like League of Legends.


LegendsHD a own League of Legends Client ?
No, not at all. LegendsHD is not like ACE Client or similar things. You still play with your 100% unmodified Riot Gamefiles. No gamefiles are touched! The LegendsHD Application is just a little tool wich helps to enable the D3D Injector and give a support for Preset and several neccesary workarounds depending on the gameclient version. My target is to give more advanced users a way to create own presets wich can be used with LegendsHD. Creating good looking D3D modifier configs is a very time intensive thing, you have to try and error and test, test, test and test... At the End you receive something what is subjective looking better but different people different preffered styles. So at the End I just want to deliver a easy way to apply different custom presets created by the community.
The LegendsHD Tool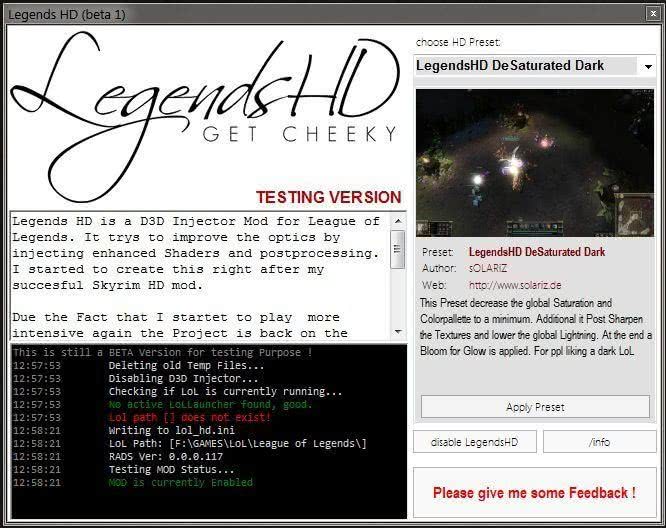 Doesnt it just look blurry and dark ?
Yes and No. As I wrote before, LegendsHD is just the Tool to apply the community generated presets. to figure out a perfect preset needs alot of testing and tries. So this Screenshots just enable the Filters but the neccesary adjustment is missing. So just to enable BLOOM isnt a good thing if you dont configure it. Results can vary from a foggy blurry image to great Light effect. So please see all LegendsHD Preset Screenshots as testing templates for actual features not as a ready to use preset. If the Tool itself is done I will start finetuning some presets as "ready for use".
Compatibility?
Due the fact that additional shaders need performance you shouldnt try to run it on a weak graphic card. I tested it with a NVIDIA GTX 480 and didnt noticed any visible framerate drop. From the Beta I know that LegendsHD wont run on some mobile Cards used in laptops and on some ATI Radeons. Guess the reason is ENB was actually build for NVIDIA Shader units.
What's New?
I uploaded a new Version on 26. January 2014
== FIXES == (26 Jan `14)
* removed the requirement of a effects.txt to allow presets without it
* added Luckyboys Preset
* Compiler changed to VS2013.1
PS: If you want some debug infos just create a file named 'enable.debug' in the legendsHD.exe Folder.
== FIXES == (22 Feb `13)
* Build against new DotNet compiler for ANY cpu
* Updated librarys
* Fixed some minor glitches causing not to patch correct
* Fixed Path structure to new lol client

Follow me at Twitter @solariz
LegendsHD (zip, 2.83 MB)
[Scan-Result by Virustotal]

MD5: 187c921c35ecce3c370750ef88ce4abf
SHA256: d81750c64f6c91a22d867bc724ff24d1b007d2ebd9929c43452c8a63fe3c2c89